Answers to your questions:
Understanding

data science

Do you want to exploit your data potential? Would you like to learn more about our approach? Here, we answer the most frequently asked questions. 
FAQs on data science projects
What is the process of a data science project with us?
Data science projects are of course very individual and agile, depending on the initial question, the scope and the technical framework conditions in detail. Nevertheless, a data science roadmap can be defined from the definition of the initial question to the productive implementation.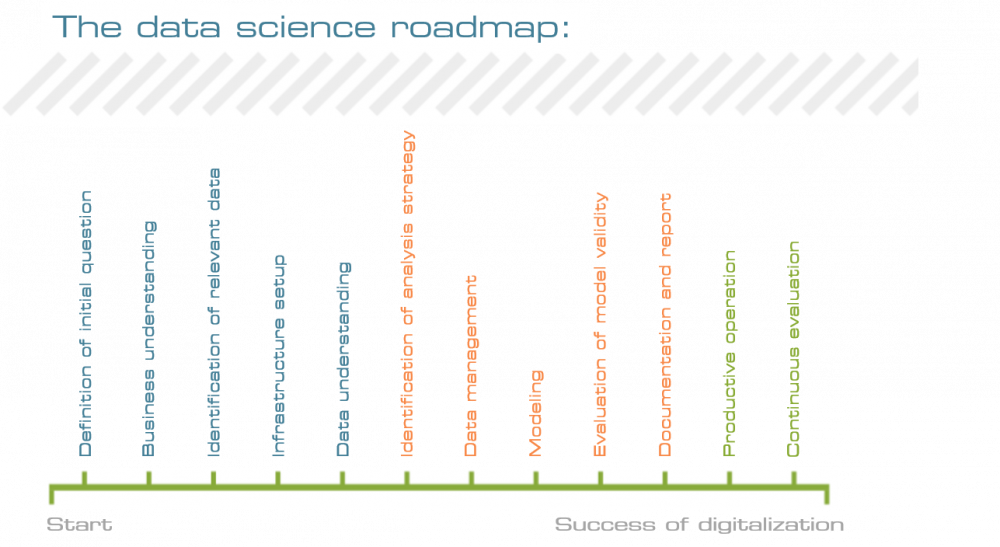 As part of the productive implementation, we implement the successfully evaluated analysis models into your business processes. Aspects such as performance and usability for a broad target group are in the focus. 
What do we mean by an agile approach?
Our preferred process model is based on the agile process methodology "Scrum". This is a process from software development which is adapted to our data science projects and in which the performance is incremental and iterative. This agile approach, in combination with the trusting cooperation with you, enables us to ensure the high quality of the project quickly. It is guaranteed at regular intervals through partial results. The procedure provides a mutual agreed project plan, where the contents can be adapted and changed in regular project meetings. 
What do you get after a completed data science project with us?
Our mission is data science empowerment. We want to enable you to apply our analysis solutions independently and purposefully. That is why we explain the achieved results and our approach in a handover workshop and train you on the tools and methods used if required. In addition, we hand over the analysis scripts to you – reasonable commented for better comprehensibility. This gives you the freedom to work continuously and independently after the project has been completed. 
We act according to our credo: Our customer loyalty is based on satisfaction, not on technically created dependencies. 
Who do I work with during the project?
During the project, one of our experienced developers from data science, data engineering or software development will be available for you as a project manager and thus as a permanent contact person. Our project managers will provide you with first-hand information on the current status of your project and will answer any questions or suggestions you may have. 
What data do we use in our projects?
Firstly, it depends very much on your concrete requirements and the existing data situation. Usually, we already draw decisive conclusions from your own data. If required, we can also include external data, such as economic and industry-specific information, weather or traffic data. At the beginning of the project, our experts obtain a precise overview of your existing data and then decide whether external data sources are necessary to generate reliable information. The addition of this data will take place in consultation with you. 
Where lies the data during a cooperation with us?
The topic of data protection and the associated security of your data are of outstanding importance to us. You have the freedom to decide how we work with your data and where it is stored: 
on your systems via VPN access

 

after

 the

 transmission of the data on our internal and protected systems

 

on anonymized dummy data or small samples

 
Of course, we will be happy to advise you on the advantages of the individual variants and find the best procedure for you.  
FAQs on the topic of data science trainings and workshops
Where do our trainings and workshops take place?
There are several ways for you to participate in our trainings and workshops. The in-house events are particularly popular. Get valuable data science knowledge at your location and benefit from the time saving by eliminating travel time. In addition, we offer data science trainings and workshops at regular intervals at different locations. These are firmly scheduled and open to all interested participants. For example, this is interesting if you only want to train individuals in your company. Current information about planned events can be found on our homepage and on our social media channels. 
In addition, we also offer the possibility of organizing the training room for you and conduct the individual training there – at our premises in Kassel or in a city of your choice. This is recommended for companies that do not have their own space for trainings. 
How many days do our trainings and workshops cover?
Please have a look at the course descriptions of our various training courses and workshops. These are our recommendations. If you have further requirements or the wish to combine elements from different courses, the events can be flexibly adjusted. 
How many participants can take part in a data science training?
For the best learning success and individual supervision by our trainers, we recommend that not more than twelve participants take part in an introductory course, and not more than eight in an advanced course. If you plan more participants for an in-house training, we can add a second trainer or train your team on several dates. 
What are the technical requirements for the eoda trainings?
For the R courses a computer with the latest version of R and the development environment RStudio is required. For Python courses a computer with Python 3 and the development environment Spyder, provided by Anaconda, are necessary. On request, we can also provide you with a notebook on loan. Finally, an internet connection is required to run the courses. 
Prior to the training you will receive further technical information from us – for example about R-packages and Python libraries required in the course. 
What data do we use in our trainings and workshops?
In our data science trainings and workshops, we rely on practice-oriented sample data sets with which you can learn the presented analysis methods and apply them in practical exercises by yourself. If you wish, we can also train you on your own data in our in-house training courses. This allows you to apply the knowledge you have learned after the training seamlessly. 
Would you like more information?