As part of our eoda | analytic infrastructure consulting we are looking for a System Engineer (m/f/d), Solution Architect (m/f/d) and Data Engineer (m/f/d)
With strong problem-solving skills, you are the control center of modern analytics infrastructure landscapes. As part of an interdisciplinary, agile team, you balance customer requirements with technical possibilities and create sustainable solutions in varied IT infrastructure projects. You further develop existing systems, integrate new ones and check individual components with regard to performance and usability in times of data-driven business processes. In addition to an analytical mindset, your strengths include the willingness and interest to familiarize yourself with new technologies. Look at our job offers System Engineer, Solution Architect and Data Engineer – we are looking forward to your application!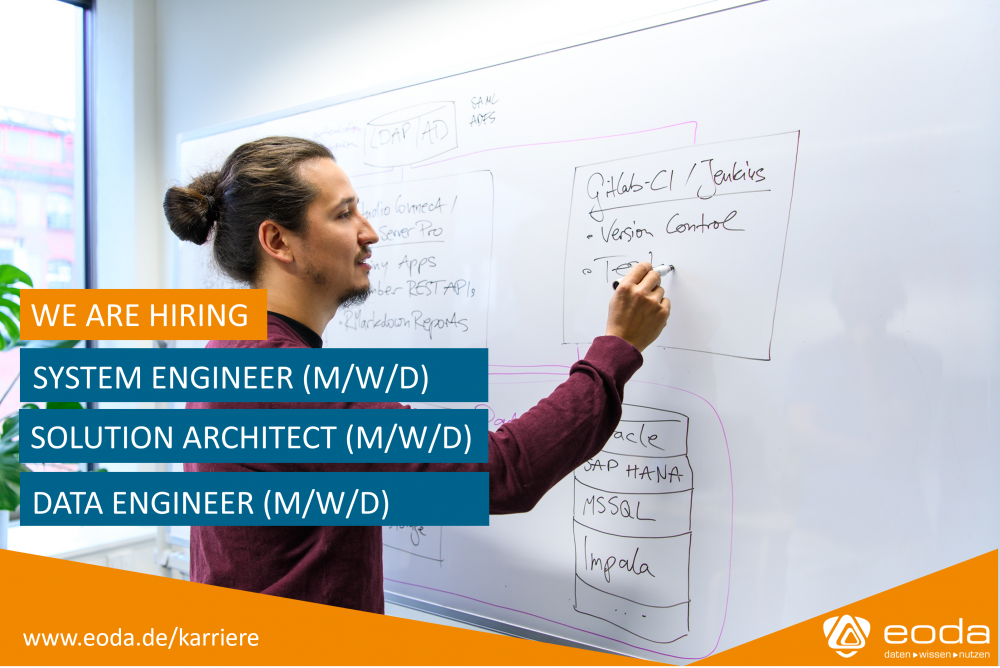 Consulting, implementation, support – For more than 10 years, we have been finding long-term solutions for established companies with the help of our in-depth knowledge of the diverse data science toolset of our eoda | analytic infrastructure consulting. In a variety of projects, we transform data into added value for leading customers such as REWE, University of Amsterdam or Covestro, and with YUNA we develop the platform for the productive use of data science in the company. Creative approaches and innovative technologies: We are shaping the future of digitalization. Dive into the most exciting industry of the 21st century.   
And that's not all: We focus on you as an individual! Passion and enthusiasm for our topic, our tasks and our strong team spirit as well as the opportunity to support our dynamic company development are important to us. Our open corporate culture also offers you a good work-life balance – flexible working hours and a freely choosable work location – in our offices in Kassel (Germany) or from home. Further benefits such as a job ticket, bike leasing, freely selectable vouchers, organic fruit and much more is also available to you. Find out more about the benefits in our job offerings.    
Become a part of us and apply for our open positions as System Engineer, Solution Architect and Data Engineer at eoda. We are looking forward to your application!    
BTW: As one of the first companies in Germany, we are offering apprenticeships in data and process analysis. We are also looking for a Data Scientist and Senior Data Scientist. So, if you are working in this field or know someone, we are excited to receive your application.