Advantage
Ability to make predictions about machine failures
Data
Sensor data of production machines
Tool
Data Science Platform: YUNA
Predictive maintenance

– TRUMPF Lasertechnik
Challenge
An international operating mechanical engineering company is pushing ahead with the digitalization of its production. One starting point: The data-supported optimization of maintenance. The available database for this purpose contains, among other things, sensor readings that contain error and malfunction messages at different time intervals. This provides the machine manufacturer with comprehensive information, since more than one hundred machines, each with more than 250 sensors, continuously supply data.
Aim
The primary aims of the predictive maintenance of the laser machines were as follows:
Introduction of data science to utilize the data
Analysis of lasers whose sensors produce countless machine data on a daily basis
Transparent and descriptive visualization of machine data
Cross-role workflows to support business processes between development, service, after sales and external as well as internal data scientists
Introduction of algorithms for pattern recognition of defect images and prediction of future failures
In principle, the "industry 4.0 maturity level" – based on data and algorithms – should be increased.
Solution
In the first step, eoda TRUMPF helped to train its own data science team. The trained team thus combined domain and statistical knowledge and was able to successfully identify and implement the first use cases. In order to perform the complex analyses of the machine data, the open source scripting language R was used, which has a unique range of functions for analysis, forecasting and visualization and was used by the engineers at Trumpf after a short time.
The use cases consisted of evaluating the existing machine data sets, examining them for anomalies and failures, mapping the results and predicting future problems.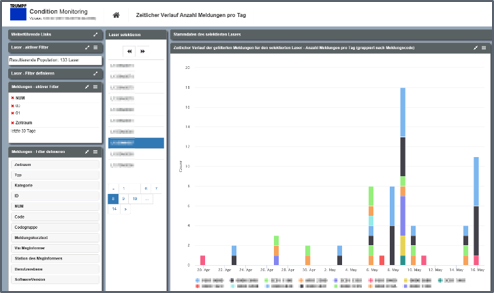 The involved specialist departments as well as the management were sustainably convinced by the results of the analyses. In the further course, the focus was on the integration of data science into existing business processes. For this purpose, a condition monitoring portal was developed based on the eoda solution YUNA.
YUNA makes it possible to check the condition of the machines and, in the context of predictive maintenance, to optimize the effort and costs of maintenance and repair. The portal is an on-premise solution: TRUMPF retains complete control over the data and algorithms.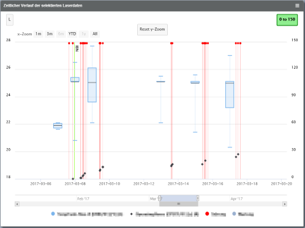 "YUNA by eoda enables us to fix problems before they actually occur. Thanks to real-time data evaluation, we reduce downtime, optimize processes and increase machine availability at the same time".
Marco Holzer | Head of Product Management & Logistics Services | TRUMPF

Result
Thanks to YUNA, machine data and trends can be visualized and analyzed in the form of dashboards, flexibly combineable widgets and charts. Different departments, such as development, service or after sales, work in different roles connected by workflows on the different use cases.
As a result, a maintenance strategy is implemented that detects possible errors in advance and thus prevents unforeseen machine failures. This enables the planning of optimal maintenance and creates new value-added services based on data and algorithms.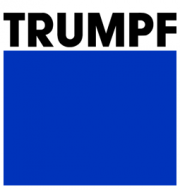 Start using predictive maintenance and condition monitoring successfully now