Data Science Talks

on Data Science and AI
Inspirations for Digital Masterminds
There is knowledge in data. Strategic knowledge, which can be the key to higher sales, reduced costs or better processes. Therefore, it is our goal to enable you to use your data in the best possible way. Learn how to get the most out of your data with the right approach and the optimal IT infrastructure. 
In our keynotes, we are giving you new impulses and recommendations for action for your own digital success story. Are you planning an event or an internal event and are looking for an experienced and recognized speaker? Our Chief Data Scientist Oliver Bracht and his team will provide you with exactly the insights you want – from keynote speeches to hands-on workshops.
A selection of our talks:
Data Science, AI and Machine Learning: How do I raise the data treasure?
Data science, artificial intelligence and machine learning: The extraction of knowledge from data is currently known under different terms. The topic does not only concern companies of all industries, but also the social discourse. This lecture explains the background, provides insights into cross-industry use cases and shows how analytics can become a decisive building block for your company. 
Contents: 
The background of 

d

ata 

s

cience: What can analytics really do? What are the decisive success factors?

 

No analysis without data: Which requirements must data meet?

 

The optimal introduction: How can the right data science use case be found

? How can your company use it across departments? Which competencies are indispensable?

From the requirement to the data product: The process model in analysis projects

 

Challenges, solutions and revealing results: Insights into concrete analysis projects

 
Operational Data Science: How do I create the right IT infrastructure for the requirements of the Big Data Era?
In order to sustainably exploit the potential of data science, you need a seamless implementation of analytics solutions into your business processes. In this lecture, you will gain valuable insights into the technical requirements of data science, the most important building blocks of your IT landscape and a deep understanding of the right tool and technology decisions based on reference scenarios from practice. 
Contents: 
Development environment: Which environment is the best choice for which user?

 

Source code management: How can version management help to make source code comprehensible and transparent?

 

Testing: How can I increase the quality of the analyses through systematic testing?

 

Staging architecture: How do I create suitable environments for the different levels of maturity of the analyses?

 

Documentation: What does documentation look like that promotes collaboration and efficiency of the analysis team?

 

Access management: What requirements do cross-departmental workflows have for the authorization concept?

 

Security: How can you reconcile analytics and IT security?

 

Infrastructure sizing: What computing capacities do you need for the realization of data science projects?

 

Reporting: Whether static PDF, HTML documents or interactive web applications – how do I implement the optimal toolset for my reporting?

 

Package management: What are the requirements for the use of packages in terms of managing dependencies or deploying updates?

 
Beyond the Hype: How companies can really benefit from AI
A worthwhile vision or a non-transparent threatening posture, a sustainable success factor or a short-term trend: Artificial intelligence employs companies from all sectors. In this keynote speech, Oliver Bracht explains the background of AI, highlights the strengths and weaknesses of artificial intelligence and shows in which application cases it offers real added value for companies. 
Especially, Oliver Bracht uses his years of experience and shows why there is great potential for German companies in the right combination of artificial and human intelligence. 
Contents: 
The background of artificial intelligence: What 

is AI able to

? What are their strengths and weaknesses?

 

The origin of 

a

rtificial 

i

ntelligence: How do algorithm developers work?

 

Practical focus

: In which areas is the use of AI worthwhile?

 

The perfect mix: How can self-learning algorithms be combined with human knowledge and experience?

 

The optimal introduction: How can companies benefit from AI?

 
Our Keynote Speaker
Oliver Bracht
As Chief Data Scientist and co-founder of eoda GmbH, Oliver Bracht has seen the challenges that companies face today on a daily basis for over 10 years.
Moreover, he experiences the opportunities that arise from innovative ideas and the courage to make changes. His goal: companies should make more out of their data. In his talks, the experienced speaker and studied rhetorician provides impulses and incentives for this.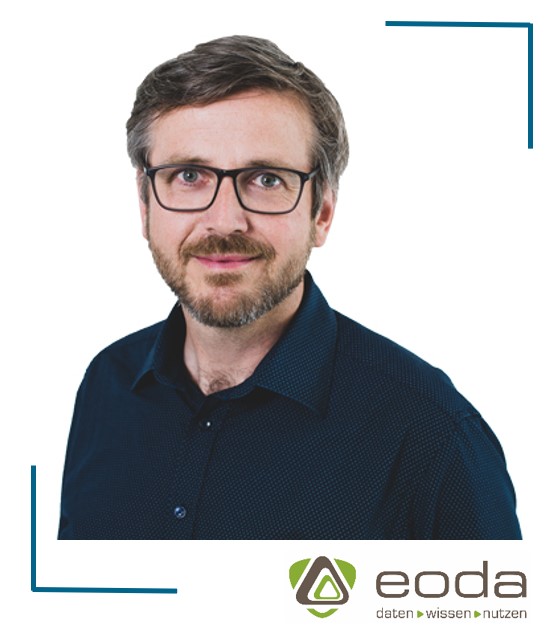 A selection of references
Conferences
M3 2021: Federated Learning – the solution for data protection, data sovereignty and performance
EARL Conference London 2020 – Predictive Maintenance with R
Business Analytics Day 2020: From PoC to scaling data product
Women Ressource 4.0: AI and ML – opportunities and limitations
HPI Industry 4.0 Conference: Enabling IoT – Success Factors of Data Science in Industry
useR! Conferences: Implementing R in old economy companies
Keynotes
B. Braun AI Barcamp: AI Use Cases from other industries
VDMA experience exchanges: use case identification, data strategy & federated learning etc.
Your contact person on the topic of data science talks: Meltem Hekim