Two years ago, we revealed something sensational: Santa Claus is a data scientist. The secret of his success does not lay in his hundred years of experience as a gift messenger, his flying reindeer or his faithful elves. It is his analytical skills that enables him to make Christmas to the most beautiful time of the year for children all over the world.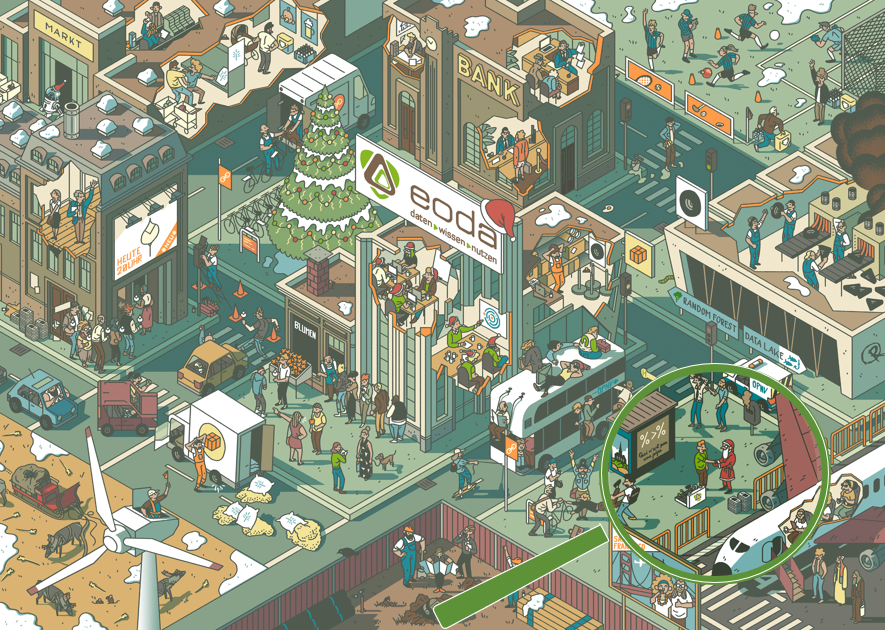 Since then, a lot has happened in the world of data and algorithms and there are also new, amazing findings about Santa Claus.
Is Santa Claus a regular guest at data science conferences around the world?
Who should know better than Santa Claus: if you rest, you rust. That is why further training is of top priority for the white-bearded and red-suited man, especially during his annual preparation for the Christmas season. There have been reports from useR! 2018 that an elderly gentleman has asked in several talks about the transferability of forecasting models to the behavior of small children. At another analytics conference, participants have noticed a similar-looking man who examined the nearby houses for the size of their chimneys during the breaks.
His elves were surprised when Santa Claus was on an unscheduled training trip for a whole week at the end of summer. But they were even more surprised when he returned: months before the arrival of the first wish list, their boss presented them a comprehensive list of gifts they needed to buy for the upcoming Christmas season. Furthermore, he advised them to take a look at the Santa cloud for further inquiries.
Santa Claus is close to despair
Calm and relaxed: that is how his elves usually describe Santa Claus. Since he has confidence in the ability of algorithms, the occasional transfer of forgotten gifts to the Easter bunny has become a thing of the past. However, by the end of May, the elves have seen their Santa Claus for the first time out of control. Some have described him as simply desperate and they didn't know the reason.
The sled was freshly polished, the coat was patched, and the reindeers were all in good health. But Santa Claus seemed to believe that the upcoming Christmas celebration is in danger. Only after the visit of a serious looking man in a suit and almost 300 signatures of elves later did Santa Claus calm down. The General Data Protection Regulation did not stop at the man, for whom data and Christmas belong together like pine needles to a Christmas tree.
Santa Claus Vision
The dust has settled, and Santa Claus is back on track with his favorite project: a time-to-event analysis. This time it is not about the children and gifts, the focus is on the adults. In other words, Santa Claus has set himself the task of finding out who is spreading outrageous rumours: doubting Santa Claus' existence in front of a child, or even worse than that, denying it altogether. He is looking for the circumstances that make people question him. Parents who are not sufficiently appreciated and plagued by Christmas shopping, siblings in the midst of puberty or the thousands of people occasionally wearing a Santa suit at Christmas markets and celebrations all over the world. Santa Claus wants to be there if a child's dream could burst again.
But for now, Christmas is just around the corner. Like every year, he is well prepared and ready to take off with his two favorite reindeers "Hadoop" and "Spark". Until then, however, he enjoys reading articles about the analysis of Christmas songs, working on his Shiny-Christmas app and dreaming of the bright children's eyes that will await him.
Despite all the joy about reliable forecasts and the elves who admire him, it is the children's happiness that makes Christmas so special for him every year. His only drop of bitterness: as Santa Claus, he is not allowed to talk to anyone about his digital winter fairy tale. He is convinced that children's birthdays, Easter celebrations and anniversaries could be even more beautiful, if many more people knew that the key to giving the perfect gift lies in data.
The entire eoda team wishes you a peaceful Advent season, a merry Christmas and a happy new year 2019.