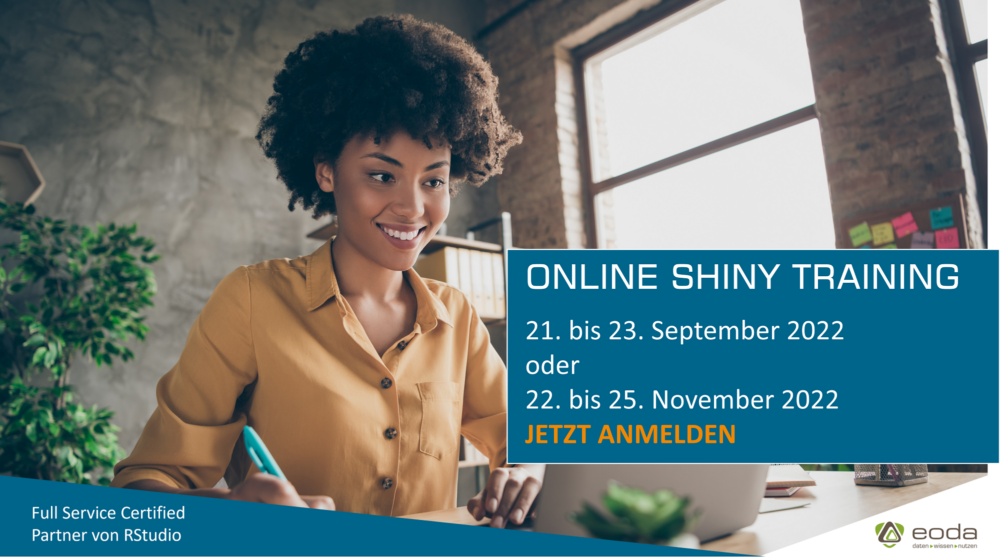 Our Shiny trainings return! In September and November 2022 our certified instructors teach you how to make your data come to life. As a Full Service Partner of RStudio and leading Shiny expert, we empower you to independently develop successful Shiny apps for productive use in our German-speaking online trainings. 
What is covered in the course? 
Introduction to Shiny

 

Philosophy of Shiny: Reactive Programming

 

Data structures and their properties

 

User Interface Design

 

Workflow for developing a Shiny application

Extension packages around Shiny

 

Do's and Don'ts for the productive use of Shiny applications



When?  
20th – 23rd of September 2022, 9 am to 12:30 pm (CET) or  
22nd – 25th of November 2022, 9 am to 12:30 pm (CET) 
Where?  
From your home office or office: Our online Shiny training offers you the opportunity to become a Shiny expert in an uncomplicated, flexible and safe way. 
Price?  
€999,- per person (excluding VAT) 
Who is the course for? 
The course is for participants with initial programming experience in R. 
What do we offer? 
High focus on practice through experienced trainers and application-oriented exercises
High-quality course materials and standardized exercise data sets
Training in small groups for optimal, individual support
Review of learning objectives
Certificate of attendance
Use this opportunity to become a shiny expert with the help of our experienced and certified trainers. Register now!