YUNA elements
YUNA elements thinks Data Science further and takes the path from collaborative creation to productive deployment of Data Science projects. YUNA elements is a server-based application and your conductor for Data Science projects. Free yourself from routine and administrative tasks and use your time to collaborate on the best algorithms.
Scaling
Depending on number of users, data queries and volume. Collaboration in teams, departments or externals!
Integration
Per REST API meaningfully integrated into existing infrastructure and controlled from other applications.
Machine Learning Lifecycle
Control every step of the Machine Learning Lifecycle easily via node structure.
Automate
Training, deployment, execution, and monitoring and alerts along the entire project.

For Business
Reduce the effort required to manage, execute, and automate all analytics projects

For F&E
Train your models even easier and get results faster

For you
Build your own analytical solution – without high development costs, tailored exactly to your needs!
---
YUNA elements for Machine Learning
Project structures

YUNA elements provides a quick to grasp hierarchical project structure. All resources such as scripts, image,text and other files can be stored in the nodes.
Develop and optimize partial steps instead of complex structures and reuse parts in other projects – analysis scripts thus no longer need to map the entire pipeline.

Individual script environments

Analysis scripts are executed in YUNA elements by environment packages called agents. An agent supports R, Python and JULIA in different versions.

Use as many agents as you like in your projects to perform the optimal analysis at any time.

Versioning

With YUNA elements scripts can be used in different versions as well as track changes through bindings of for example Git.

Bind public or private repositories to your projects. Use data and scripts from all branches and commits
---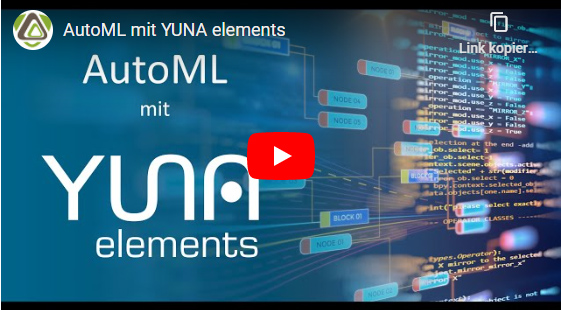 This link will take you to a Youtube video. For more information, please see our privacy policy
---
Integrated environment
Integration via API

Not only integrate – but also control!
Freely selectable endpoints allow YUNA elements to react to or be controlled by other applications.

This way, YUNA elements ensures easy and fast integration into your infrastructure.

Use all popular data science languages

Your scripts speak R, Python, or JULIA – maybe even scripts exist in all languages?
Integrated packages ensure interaction.
YUNA elements links scripts in different languages together.

Expandable

With YUNA elements we offer an easily customizable system that adapts to your needs and projects. Just contact us!
---
Scale data projects with YUNA elements
Dynamic load balancing

Whether data queries, volume, sources or user numbers:
YUNA elements provides a high-performance environment for ALL analytics products at all times.

Markdown & Terminal in One

Both are possible:
YUNA elements can be used both via the terminal and via Markdown interface.

Granular rights-roles concept

Working in teams, different departments or with external parties:

YUNA elements lets you create and manage individual role concepts, tailored to your requirements. You control who should perform which data analysis activity.
---
Automating with YUNA elements
Eventrigger

Automated report generation? Launch different projects interdependently? Respond to external events? Inform users? Create visualization?
YUNA elements provides customizable endpoints that respond to your projects and perform automatic actions.

Smart Alerts, Logging, Report – and more

Smart alerts along analytics? Play out reports? Inform users? Drive other projects?
With YUNA elements you can set individual endpoints and provide them with actions. Create your very own logics!

Scheduler

When should which analysis be executed and how?

Set the order and intervals individually with YUNA elements
Your contact on this topic:
Manfred Menze