The Data Science Automation Platform
YUNA is the central, collaborative platform for company-wide insights and for optimizing digital processes and analyses.
YUNA 

– Data Science Automation Platform

YUNA is the central, collaborative platform for company-wide insights and for optimizing digital processes and analyses.
Empowering

Data-Driven

Intelligence

together

With YUNA, various data-driven use cases can be centrally managed and controlled, analysis results evaluated, visualized and made available, so that everyone in the company can use the full data potential. As a central platform, YUNA offers your company:
Automation of processes
Advanced data analytics
Scalable architecture
Data governance functions
Simple and secure information distribution both internally and externally
Functions for the realization of an increasing number of new use cases
Adjustment and optimization of analyses in productive use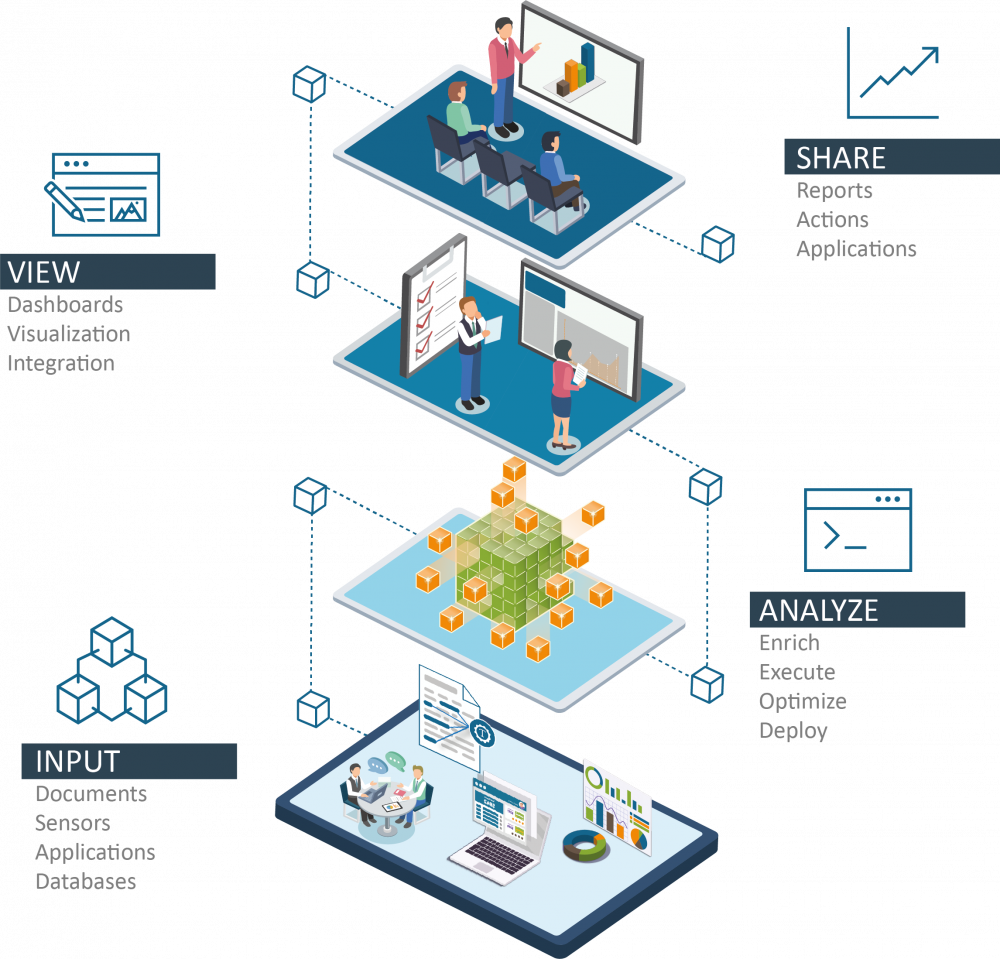 The

right tools

for effective use of data analysis at

any time
Key
Features
Optimize analyses, detect model drifts and data labeling

Evaluate and optimize analytics results. Algorithms provide results – people provide the expertise. YUNA provides a intuitive Data Labeler, that brings it all together in one function and keystroke. This feature makes it possible to move from pure anomaly detection with unlabeled data and unsupervised learning to labeled data and predictions through supervised learning.

More: The same feature can be used to tune your analytics models! User can give feedback about the accuracy which in return is used to optimize the algorithm!
Dashboarding

Go from mockup to custom view in just a few steps – Use and customize ready-made widgets. This creates customized dashboards, with exactly the information every team member in the company needs! Easily share dashboards with others and/or roll them out company-wide. Also possible: a dashboard that presents itself differently depending on the rights – / role concept.
Filter and database in one

Use custom filter categories and SQL statements to filter intelligently. Once filtered, views can be shared with Data Scientists who use the filters as Data Sets and apply algorithms to them. Even more, filters can be edited collaboratively and also shared among users – so exporting data is no longer necessary!
Automate

Start processes and analyses, run reports and alerts to react and make better decisions at any time.
Visualize, provide, decide

Display analysis results fully automatically as a table, chart or image. Make better decisions faster with data support. Use views as the basis for new analyses and create new analysis packages.

Even more: Never share screenshots or settings again! With YUNA you can easily share your content via link – all settings remain intact. So colleagues can continue to work directly, without a phone call, screenshare or passing through settings.
Cyclic analyses and more

Quite simply select one or regular time points to start their analyses. Well planned, they collide so never again other processes.
Integration of Shiny and more

View and interact with HTML content directly in the dashboard. One Shiny app for different groups and users? No problem. Integrated with YUNA, apps like Shiny can leverage filtering and permissions cloning concepts from YUNA – instead of building Shiny apps for each individual group, one is now enough!
Leverage the full potential of data and
get answers to questions you hadn't thought of before!
| | |
| --- | --- |
| "What a powerful tool and what creative people who came up with it." | |
Peter Seeberg
AI expert for the manufacturing industry | Podcast "KI in der Industrie"
German only
| | |
| --- | --- |
| "With YUNA eoda enables us to fix problems before they actually occur. Thanks to real-time data evaluation, we reduce downtime, optimize processes and increase machine availability at the same time" | |
Marco Holzer 
Head of Product Management & Logistics Services  | TRUMPF
Update: 08.11.2022
New in Version 2.8:

More insights using new visualizations
Ready-set-go – Now get started with YUNA even faster!
Out-of-the-box vs Customization? The system panel
Jump start now – we will walk you through it!